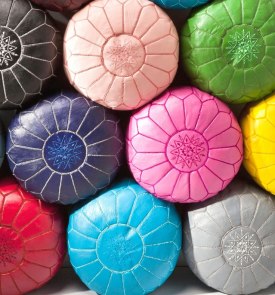 Pouffe information 
Pouffes from our eshop may be ordered stuffed or unstuffed. By ordering an unstuffed pouffe you save money and the filling is pretty easy! We are, however, happy to fill your pouffe, just don't forget to add Pouffe Filling to your order! 
Our unstuffed Moroccan pouffes can be rounded with variety of different materials depending on what you have available and the kind of finish you wish to achieve. The pouffe is a versatile companion and can be filled with almost anything, from polystyrene balls to old clothing and fabrics. It is an eco-friendly way to use up materials you may have stored at home which are waiting to be recycled.
For a soft and light pouffe, we recommend using a filling of polystyrene balls, foam chips, old plastic bags or scrunched up newspapers. If using polystyrene beads it is advisable to use a liner, for example an old pillowcase, and fill in the bath or outside as the beads have a tendency to escape! To achieve a firmer, heavier pouffe try using cotton, felt, or wool fabrics. Old towels and sheets work well. We recommend this "solution" if to wish to use your pouffe as a seat.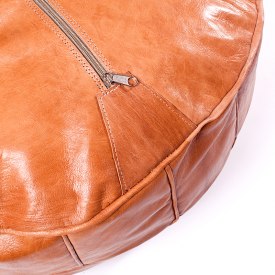 Stuffing your pouffe
1. Make sure the material you are using is clean and dry.
2. The zipper is located on the bottom of the pouffe. Unzip the pouffe and open it out to its full shape.
3. Start by gradually filling the sides at the top of your pouffe to ensure that all the nooks and crannies are fully stuffed. This will prevent dimples and bumps in the finished pouffe.
4. Continue stuffing evenly - add a layer of stuffing and push it down firmly (again, ensuring that the sides and seams are fully filled out) before moving on to add another layer.
5.Continue until the pouffe is full.
Please avoid over-filling your pouffe as this could put strain on the zip when closing. The pouffe will bed down over time and more filling can then be added as required.
How to care for your pouffe
The finest quality materials are sourced for our products made to order for us in Morocco. A country famous for its leather industry using traditional methods proven by hundreds of years. All ingredients used for dying the leathers and manufacturing are of natural origin. The local plants are harvested, dried in the sun and then grounded to a powder. The powder, when mixed with water, produces the dye. The dyes are blended to create the amazing palette of jewel-like colors we bring to our range of pouffes. Our pouffes come in a wide selection of beautiful colors, which range from mild beige (Latté) to fuchsia and gold. In the following text you find tips about how to care for your round sweetie.  
If your new leather pouffes have a strong smell this is due to natural tanning processes. Please be assured that the scent will fade quite quickly once the pouffes have had the chance to air. Keep the pouffe away from heat.
Dyed or Oiled Leather
Leather resists stains, so a clean, dry cloth or slightly damp cloth will take care of most of spills. Keep use of water to a minimum, and avoid soaps, polishes and cleaning products. If a cleaner is necessary, choose one specifically designed for leather. If treated well, leather ages very well and will become more soft and supple with time.
This leather is a natural material - minor flaws and imperfections are characteristic of these materials and methods, and only add to the beauty and character of our collection.
Please note, the oiled pouffes are made from un-dyed natural leather, which may contain small marks from the animal's hide. This is normal, and part of the item's character and charm. The natural oils may transfer to other fabrics, so take care not to rest on other fabrics for the first few weeks. Please treat the natural leather pouffes with extra care as these have no finish, such as dye or oil, to protect the leather.
Faux Leather
These pouffes are very easy to clean - moisten a cloth with warm soapy water, and clean small areas of the pouffe at a time. Wipe with a dry rag when done. Faux-leather cleaner can be used for larger stubborn marks.